Cavitron | Low Speed | Surgical | Electric Handpiece
What is a High Speed Turbine Rebuild?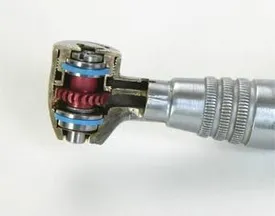 When your handpiece stops working, it is usually because the turbine bearings are shot and need replacement. Our turbine rebuild offers a more economical alternative to replacing the entire turbine every time. We carefully remove the old bearings and any other parts too worn to use. After a thorough cleaning, we install new bearings and O rings, calibrate and test your handpiece, and return it to you running almost as good as new.
Ceramic Bearings Available
As of June 1, 2009, you can get most handpieces rebuilt with Ceramic bearings for $20.00 more. Ceramic bearings are lighter and harder than steel, and may extend the life of your handpiece turbine. Please request this option on our work order form if you would like ceramic bearings installed in your handpiece.
High Speed Turbine Overhaul/Rebuild Six Month Warranty

Steel Bearings
Ceramic bearings
Midwest Quiet Air, Lever
$99.95
$119.95
Tradition, Tradition L, XGT
$99.95
$119.95
Midwest Stylus
$129.95
--.--
Star 430 SWL (lubricated)
$99.95
$119.95
Star 430 LUBE FREE ONE Year Warranty
$180.00
Kavo 630, 640, 642, Mira Lux
$99.95
$119.95
Kavo 6000
$99.95
$119.95
Kavo 6500
$129.95
$129.95
Adec, W&H
$99.95
$119.95
Lares
$99.95
$119.95
NSK, Kinetics
$99.95
$119.95
Impact Air 45
$99.95
$119.95
LTL (maintenance free)
$109.95
Push Button Canister Rebuild
$89.95
Push Button Canister New
$149.00
Standard Canister
$79.95
(3-month warranty)

What is an Autochuck Repair?
When the automatic chuck (pushbutton or lever) in your handpiece turbine stops gripping the bur safely you have two options. You can replace the entire turbine with a new turbine, or we can repair, or sometimes replace, just the autochuck and get it to meet factory specifications again. This is a separate repair from the turbine rebuild, and carries a separate six month warranty. If your bearings are in good enough condition then the only charge will be for the autochuck repair by itself. If we are not able to repair or replace your autochuck, we will then recommend a new turbine.
Autochuck Repair/Replacement

(Six Month Warranty) -

$95.00
Additional High Speed Handpiece Services
Star, Midwest Fiber Optic Replacement - $185.00

Kavo Cellular Optic Replacement - $249.00

Star Body Shell Service - $75.00

Air/Water Line Clearing, Minor Servic - $45.00

Internal Air/Water Line Replacement - $110.00